What is the PMViewer?
The PMViewer is a tool to browse your old private-messages.
It reads *.xml from the phpBB3 export function.
Tired of full inboxes?
Most phpBB 3.x.x boards limit the count of private-messages.
If a folder is full, you won't receive any more messages or old ones are overwritten.
BUT you are able to EXPORT the messages in xml-format.
If you do so, you just may save them in a folder, naming the files like you want.
NOW you can use the PMViewer to browse through and read your old messages while your inbox can receive the new ones. :)
DOWNLOAD
Download it from github: http://github.com/Combuster/PhpBB-PMViewer/archives/master
INSTALL
Requirements
Start

Messages

On lunch the PMViewer fetches pm-data from the data/ folder. You can put your messages into that directory.
But you can open other folders during runtime from the menu PMViewer -> Open folder, too.

Start the PMViewer.jar:
java -jar PMViewer.jar
On Windows you may double-click the PMViewer.jar .

Browse/read

You may filter your PMs in the Filter-View by selecting PMs in the table and/or by using the filter-form.
You can sort the table by clicking on the column-headlines.
Smile! :-)
SCREENSHOTS
v0.1.1b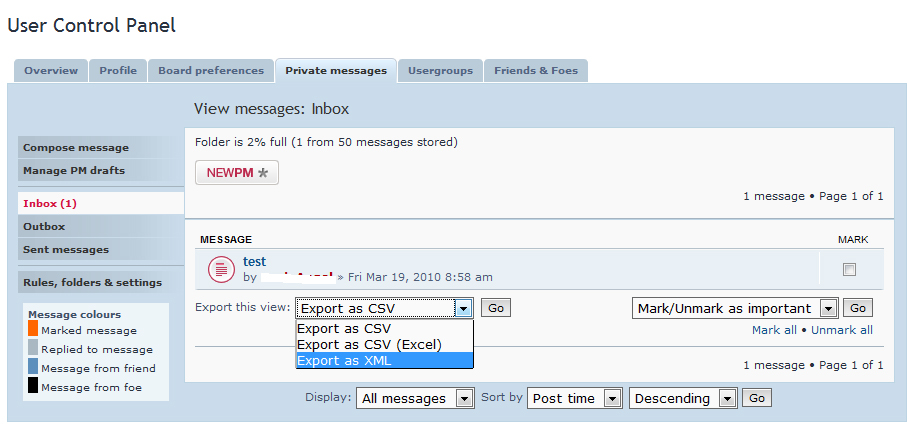 v0.0.9b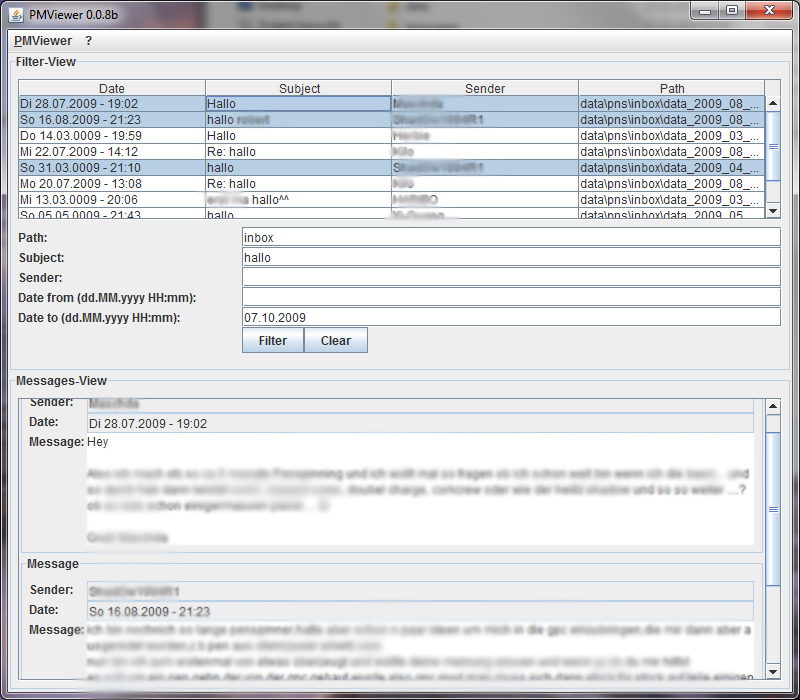 v0.0.8b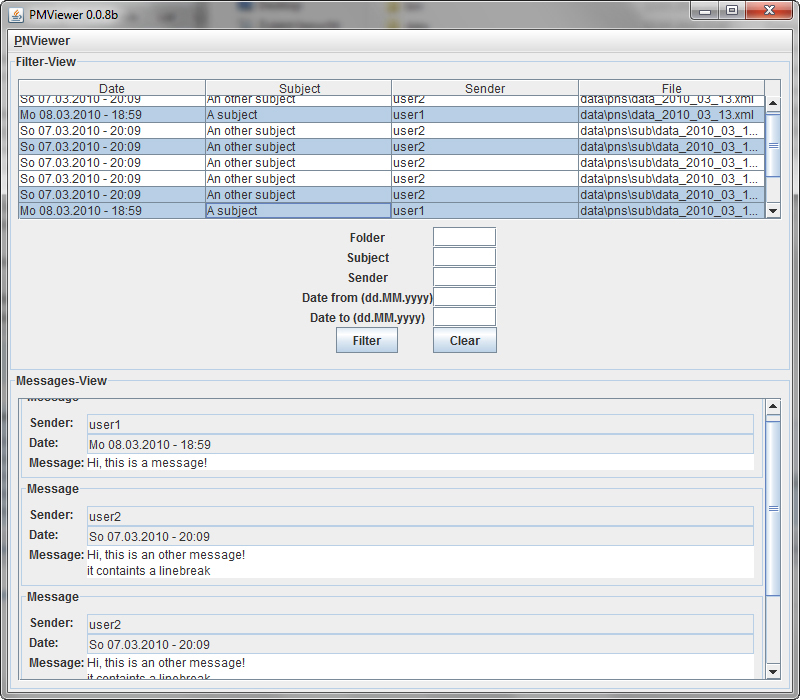 ... more to come ...
LICENSE
Copyright (c) 2010 Robert Heim
Permission is hereby granted, free of charge, to any person obtaining a copy of this software and associated documentation files (the "Software"), to deal in the Software without restriction, including without limitation the rights to use, copy, modify, merge, publish, distribute, sublicense, and/or sell copies of the Software, and to permit persons to whom the Software is furnished to do so, subject to the following conditions:
The above copyright notice and this permission notice shall be included in all copies or substantial portions of the Software.
THE SOFTWARE IS PROVIDED "AS IS", WITHOUT WARRANTY OF ANY KIND, EXPRESS OR IMPLIED, INCLUDING BUT NOT LIMITED TO THE WARRANTIES OF MERCHANTABILITY, FITNESS FOR A PARTICULAR PURPOSE AND NONINFRINGEMENT. IN NO EVENT SHALL THE AUTHORS OR COPYRIGHT HOLDERS BE LIABLE FOR ANY CLAIM, DAMAGES OR OTHER LIABILITY, WHETHER IN AN ACTION OF CONTRACT, TORT OR OTHERWISE, ARISING FROM, OUT OF OR IN CONNECTION WITH THE SOFTWARE OR THE USE OR OTHER DEALINGS IN THE SOFTWARE.